Another Wednesday with Esther but the last for August I can not believe we are 3/4 of the way through the year!!!!!!
I woke to a beautiful sunny if chilly for us morning around 14C now 10am its around 25C.
My internet keeps dropping out very very frustrating when you are trying to write a blog!!!!!! Specially when you loose photo's and the writing below the photos!!!!
I have my Gollywog quilt blocks out on my table again hopefully will be back sewing the last 6 blocks together soon. Love love these wee blocks they are so happy.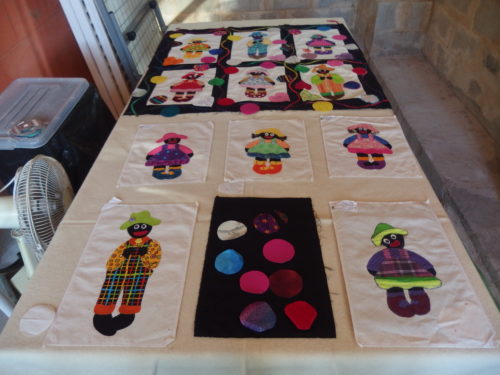 I've been working the last 2 days in cleaning and restoring an area in the garden just wish I'd taken a before photo!!!!!
Time to stop and link with Esther.  Not sure how many times I tried to downloaded these photo's then lost them with the internet dropping out before they were downloaded .
Thanks so much for dropping in, I do enjoy travelling to your homes in return to see what you are doing.  Cheers Glenda