WOW 13th July 2011
From Wednesday to Wednesday now goes quicker than Monday to Tuesday did before I retired?????? How do other people write their blogs daily and quilt??????? My son in Vienna told me a few hrs ago that I had not written in my WOW on Esther's blog!!!!!! I was really chuffed he was reading it. He will be home with us next time he reads it though. Today I have been digging out my teaching paraphernalia for teaching an appliqué sample quilt
as someone from Japan wants to learn the basics
[ over the next 3 weeks while down here on holiday. I said yes as this lady lost her mum in the Tsunami & I'm hoping this will help her through this tough time.
It's funny what else you find when you are looking for something; I'd forgotten about these wee birds but thought I would share them because of the FEET!!!!!!! I took a Photo of these wee birds
there were a lot more than 3 in Japan feeding on something; whatever it was, it was so small I could not see the seeds & they seem to be saying Mine Mine Mine!!!!!!. I have only made 3 birds & used Obi silks for the bodies & wings but a very fine black  permanent ink pen for their FEET; it is still a WIP but thought I would share it with you as we are having so many laughs over bird FEET at present!!!!!
My GD spent the after-noon helping her GP with some building
, one is never too young to learn!!!!!!! These are the things I cannot do any more so it was fun for him & a great help having her there. Liam GS  beat me twice today playing goal shooting; I knew it would not be long before he beat me. Our weather is been wonderful & still the sun shines for us. Cheers ALL Glenda
WOW 6th 2011
Our lovely winter is back, down to 11C this morning & I was wearing 6 layers now down to 1 & everyone is out in the sun & it is 23C & no wind, just perfect?????
Laure is reading lying on the sundeck chair, Paola swinging, Liam & GP playing billiards on the billiard table that I played on as a wee child?????? This morning GP & Laim made a basketball hoop & backboard up.
& then I had fun seeing who could get the first goal Paola, Liam or I; I did but in truth Liam is very very good so I stopped after the first goal!!!!!! as I know he would of thrashed me I will play against him later & he will see how bad I 'am!!!!! . I have been working on myFlowers For Me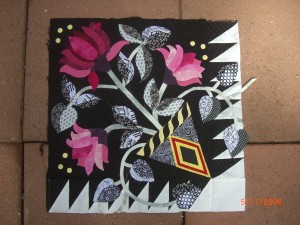 In-between sewing buttons on GD jeans, sewing a button on wrist band for GS, mending a handbag for GD in general, been a grandmother who can do anything in their eyes????? One day they will discover I'm not perfect but in the mean time it is fun to let them think I am!!!!!! Laim & GP are loading the car now to visit the local tip always a great trip as they always find something exciting to bring back!!!!! Paola is singing as she swings from the palm swing out the back?????
Cheers every one Glenda
WOW 29th June 2011
After endless beautiful weeks of perfect weather it started to rain 2 days ago which is rather sad for me as some of my family arrived yesterday from Vienna for 6 weeks leave; they were due in at midday but missed their connection from Sydney to Cairns due to a late departure from Dubai & arrived home finally around 8pm exhausted. Mum & granddaughter are asleep but my grandson had a sleep in & has spent the morning helping me repot & top up the fruit-trees on the patio
This is rather time consuming job as first you have to remove all the pebbles & stones around the base which we have to use to stop the bush turkeys from digging up their roots to eat, then add the new soil, replace the stones & pebbles?????? But it is fun when you have the joy of working with a grandchild & catching up on their gossip!!!! What more joy can you ask for???. !!!!!! We also have very large tropical caterpillars that like to chew the leaves see photo which has a mobile phone next to it so you can see the size of it!!!!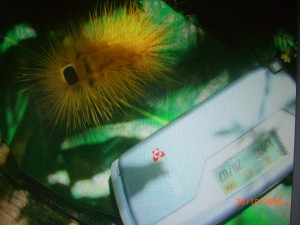 Hopefully next Wednesday we make it to the beach if it is sunny again!!!!!! Now to sneak a little time while everyone is sleeping & add a couple of wee circles to my peony flowers. Cheers Glenda
WOW  22  June 2011
What happened to today????? I set off very early for the beach around 8.30am first stop the Dr's, where I sat & slept!!!!! till I was called it was a late night last night???? Then on to coffee at my girlfriends who has just arrived back for  3 months from Japan, 11.30 saw me at the beach & it was perfect & would you believe I did take my camera but I  forgot completely about taking any photo's!!!!!, so again no beach photo, I'm sure you are all starting to believe I don't go there on a Wednesday, home around 2pm after watering the Local Opp Shop garden!!!!! Then in to the concreting see close to the forground of the photo
Front Patio entrance
I have add a slopping edge so it is easier to drive the car up on to the paves in the wet, then I dragged all the patio furniture out of storage where it goes through our wet which is usually around 3 to 4  months but has been almost 2 years this time!!!!!!  Now the place looks more like the tropics & ready for the family that arrives from Vienna in 5 days time?????? So no stitching to day ladies just mentally.  Happy stitching Glenda
WOW 15th June  2011
My weeks go so fast; but now I'm doing WOW it seems to go even faster. Over the last week I have been working on a quilt for the disaster area in Japan, 
a quilt for a special friend which is not sewen together just placed to see if I like the sashing fabric; & yes I will go with it, now need to arrange the blocks to balance,
plus Esther's Mystery BOM which I hate putting down
Now after sitting here trying to work out how to use this blog I hope it is not all deleted when I hit the next button;  now to go and do what I love doing the most quilting!!!!!!!!!!! Happy stitching cheers Glenda