Saturday 29th Oct 2011
In the Hepburn family one never knows whats around the corner so I never make a promise as some times I have to change my plans in hrs like now?????; Rod has just bought a 2002 Mini Cooper from down in Brisbane; that's 1700 ks away from us and needs some one to drive it up to Cairns. A beautiful drive 90% of the way. Many coastal area's except for that 10%!!!!Laure's cousin Chrystel from Toulouse France is staying with us at present and is coming down with me to be my co driver on the drive back. We will take about a week so that we can stop and visit a lot of the tourist spots and the hidden beaches I know or Jarrod knows. Rod gets a new car and I get a lovely coastal holiday!!!!!
It's the month of electrical failures????? first it was my right-hand man; my trusty Asko washing machine that Jon And Laure left me to use when they went over seas 5 years ago, after endless repairs Rod came home with a Hugh bunch of roses on Tuesday and a new Asko????? Laure said
" Pappa you should buy Mamma an new washing machine not a new car?????"
So I have a new washing machine thank you Laure dear!!!!!!! Then my Bernina over-lock went in to crazy mode on Saturday last week, one could not believe such a little machine could make such a dreadful noise, it went in to the repair shop but the mechanic said it  could not be fixed, so Rod is now is pulling it apart  to see what is wrong with the motor and to see if he can fix it, Oh the joy of having a Mr FixIt for a hubby.
Sunday 28th August 2011.
Click on photo's to enlarge.
This morning our local female Rifle-bird came to visit & share in our Paw Paw's!!!!! Our Catbird
decided he wanted his share too & was pushing in, out of the blue the Male Riflebird attacked him & chased him out of the yard, it was like watching a aircraft Dogfight!!!! We hardly ever see the male Riflebird he is very beautiful.
Last week I had a find, this is an old camp bush shower, even has a copper shower head & still works beautifully specially for you Liam next time you visit?????
This time of the year we have colour in the garden
& it is lovely to see, it has been a perfect winter, sunny warm days around 25C to 27C no rain and balmy nights. I have just added some plants to the front road garden & added a Bali sculpture to add a little zing!!!!!
This is for you Bunny as you wanted to see a little of my world????? June 2011
It's a funny world one never knows what the day is going to throw you. This morning I woke to the temperature at 8C which for me living in the tropics is like freezing, for other folks a mild day?????. I have never seen or felt it this cold here I tell family & friends when I want them to come & visit in the winter it really goes below 18C!!!!!!! Well I was OK with the cold but when I went out to feed my wee guppies I found 1/2 of them floating belly up I was very upset, they are very new in our live but all ready I had started to name them?????? Hubby decided to try using chains where one normally has down pipes for the rain running off from the roofs then these chains have little copper cups every 6inches hanging of them & finally the end chain will hang down in to pots which he is making out of concrete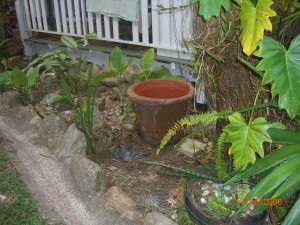 this is meant to solve the problem of down pipes been blocked with the leaves that constantly fall that surround us all year round. This idea is used right through out Japan where they have similar heavy down pours of tropical rain. We plan to add water lilies as well but need the guppies to eat the mossies who will love these new homes we are making or hubby is making!!!!!!! Hopefully the ground forest frogs
will also make them breeding homes & the lovely wee green tree frogs too!!!!!
 But I don't want any of these eggs that I found in some garden rubbish I had left for seveal weeks in the garden, I never leave vegatation lying around any more??????
That's it for today; now I'm off to vacuum  up all the spiders who have made their nests on my side veranda & there are hundreds of them???? I gave up having the pest man come in & spray as it cost a fortune each time & they still moved in after a couple of weeks!!!!! Cheers Glenda