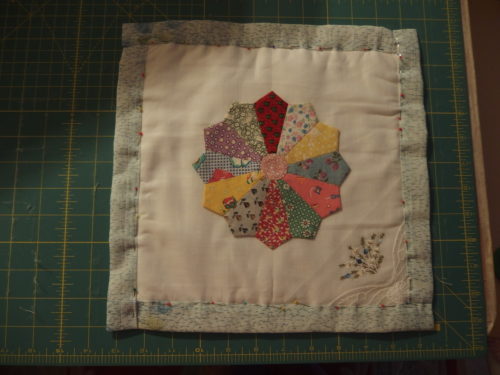 I have no idea, they just happen, some times I dream an idea, I see something that triggers a memory, Im doing some thing and think this would make a great wee quilt????
This morning it happened when I was ironing LOL  But not ironing any thing some very very old delicate linen handkerchiefs that were given to women after the war in OZ and NZ when you wanted to say a big thank you but they had most things it was these beautiful fragile (but they weren't they were made from fine linen so very strong)  2 weeks ago 3 boxes came in to the shop still sealed but rather battled scared  the handkerchiefs still pinned, surprising there were no stains from the pins but every hanky was covered in storage yellow spots,  I brought them home as I could not bear to see these little treasures chucked out,  I was brutal with the soaking I used a strong bleach and left them for nearly two weeks soaking and this morning washed them in the machine in a fabric bag.
Now the quilt begins, My conscience Jimmy Cricket is saying I thought no more new quilts!!!!!!
OK now how will I make up these wee blocks to make them all the same size as they range from 10inch to nearlly 11inchs and I do not want to cut them all the same size, I make each wee hankie in to a quilt as you go. I found
a lovely vintage hand woven grass linen Kimono not much heavier in weight than these hankies and will use this fabric for my backing
and roll it around to the front of the block and baste it to the front.
After all 15 are made up I will whip stitch them together to make up a wee quilt.
Im one short it must be some where Im off to see if its in the dryer by accident as I hand iron these dry never put them in a dryer and never let them dry naturally linen needs to be iron dry like silk.
So thats how I design LOL
Thanks for dropping in till next time Cheers Glenda