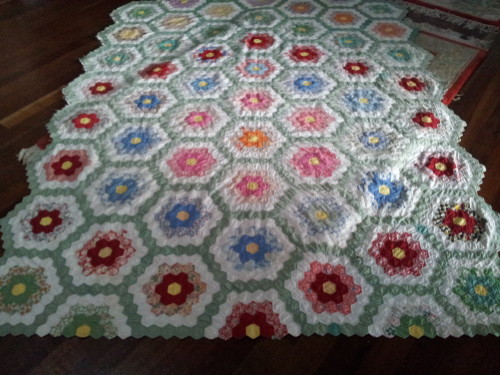 Working on  a lovely old 1930's (I think) Grandmother Garden quilt.  I bought this quilt on eBay many years ago and have been slowly quilting and making a hexagon border for it.
From this !!!!
To this
Update at 3pm Wednesday 12th after quilting those wee hexagons on the border for 5 hrs today I have 3 boarders quilted I need to stitch down the turned hexagons and Ive completed 3 sides of the quilt,  I need to make 20 more hexagons cut our 40 more washaway freezer paper hexagons and start the last border.!!!!  I can see day light at the end of a long long tunnel since I brought this back from the USA 10 years ago.
Ive managed to complete this edge of the quilt one more edge to do then I can wash it for the first time in around 80 years LOL
In the garden today.
Not a very interesting blog this week but I want a record of working on this Grandmothers Garden quilt and this is the best way for me to have it.  Thanks for dropping in to my very very wet part of the world at present. Going to link now with Esther Aliu on her WOW or WIP's today  Cheers Glenda
http://estheraliu.blogspot.com.au/2017/04/wow-tickled-pink.html